I've wasted enough time mourning the performances I had planned to attend but that dissolved in pandemic mist.  The Chicago Ring in April; the Paris Ring in November/December; the Dresden Ring in January/February; the Met Tristan; the Vienna Parsifal.
No more looking in the rear view mirror!  I've had it with converting airplane reservations into flight certificates!  I've renewed my Met subscription for the 2021-22 Season and included both Meistersinger and Porgy.  And let's hear it for the Leipzig Opera which offers something we can all look forward to:  All of Wagner's work offered chronologically, from Die Feen to Parsifal, over three weeks in June 2022!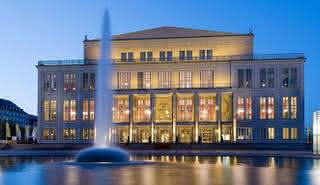 The Festival, Wagner 22, includes a program of supporting events accurately entitled "Three Weeks of Indulgence," as well as tours of the surrounding area and great accommodations.  Explains the Festival:
Richard Wagner, born in Leipzig in the year of the Battle of Nations, spent the first year of his life here, before his family moved to Dresden in 1814. He returned to Leipzig at the age of 15, enrolling as a pupil at the Nikolai Gymnasium, the secondary school associated with the nearby St. Nicholas Church. It was during his time there that his passion and curiosity for the fine arts was awakened, where he heard his first Beethoven symphony, had his first musical lessons with members of the Gewandhausorchester, and had his first compositions performed at the Gewandhaus. He wrote his early operas Die Hochzeit (The Wedding) and Die Feen (The Fairies) while still living in Leipzig. Since the 200th anniversary of Wagner's birth, the Oper Leipzig has gradually expanded its Wagner repertoire, and will honor this great son of the city in 2022 with performances of all 13 of his operas.
I do mean it's time to look ahead, not behind.  Cast?  Don't know.  Conductor?  Not on the web site.  Stage director(s)?  No idea.  So what?  I've already booked my tickets — and received them — and scoped out the the recommended hotels.  I'm hoping for some Bach at the Thomaskirche and I'm deep in my post-pandemic optimism.  Let's go!